Many of us have fallen head over heels for this refined rustic look,which was introduced by Restoration Hardware a couple of years ago. The coziness of the worn wood tones, the simpicity of the neutral linens make this style so easy to live with. Furniture pieces like these effortlessly mix in with our existing decor. A few key changes can update a room to achieve this peaceful, sophisticated look.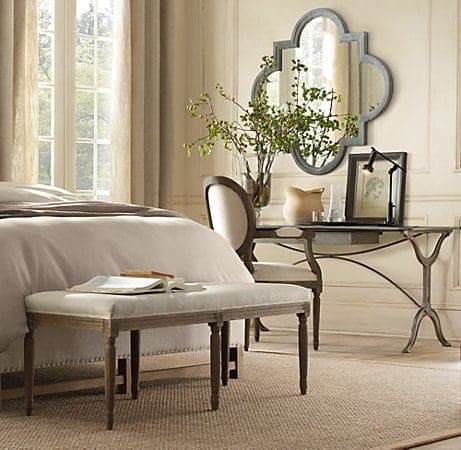 The Franco bench placed at the end of a bed is the starting point for getting this look for the bedroom. To complete the transformation, take note of a few key elements. The bedding is neutral and has a sense of luxury. Simple linen panels dress up the windows, and the wallcolour is a soft, light shade that is timeless. The accessories are kept minimal, with pieces that have a sense of the past, a framed sketch, a few branches and your favourite book completes this endearing look.
FRANCO BENCH $399
Extended bench elegantly wrapped in a premium ivory linen fabric, on a
solid elm wood frame with dark burnt oak finish.
Detailed with hand carving along the entire oak wood frame and six arrow legs.
15″D x 55″W x 19″H
—————————————————————————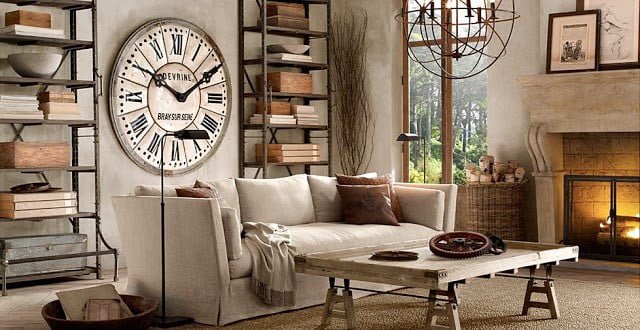 Placing a shelf like Xavier in a family room, or library kick starts the transformation of the space.
The key is to use discipline when deciding on the contents of this shelf.
Books turned backwards or wrapped in carftpaper create unity.
Simple urns and bowls, large objects that look aged make up the decorations.
Place linen covered decorative boxes on the shelves for storing all sorts of things.
The rest of the room should remain neutral, a solid coloured sofa or a rustic brown leather sofa would be the ideal accompaniment for this look.
XAVIER SHELF $899
An industrial style shelf with rustic finishing creating a very trendy and functional unit. Designed with solid elm wood in a dark burnt oak finish with matching industrial metal frame and x-back for added stability and support.
18″D x 68″W x 79″H
—————————————————————————————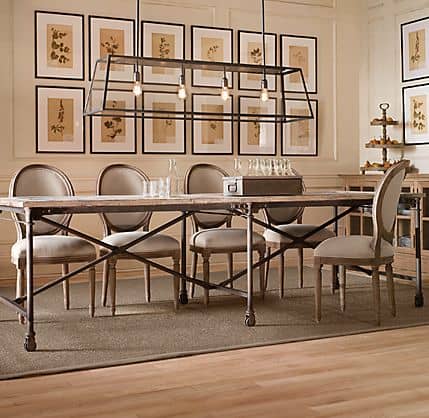 The Urbino chair is a classic french chair with an oval back. It's a graceful chair that sets the tone of the room it is placed in. Imagine it in a kitchen, in a foyer and of course a dining room as shown on the inspirational photo. Placed on a sisal rug, surrounded by dark metals and neutral finishes would be the ideal backdrop for this classic chair. Collage of artwork, vintage etchings, photography on the walls, linen drapery hanging on dark metal hardware reinforces the feeling of this welcoming look.
URBINO CHAIR $399
Elegantly wrapped and fitted in a premium close-knit linen cotton mix fabric standing on a solid elm wood frame with light burnt oak finish. The chair's presence exudes luxury and style with detailed hand carving along the entire oak wood frame and arrow designed legs.
19″D x 19″W x 39″H
———————————————————————–