With summer 2020 flying by – and outdoor entertaining becoming the new norm for the foreseeable future – we've been finding ways to cherish and celebrate these sweet, simple moments with family and friends. Whether you want to create a special evening for members of your household, are hosting for a small group, or are celebrating virtually with others – a few little swaps can go a long way in making a memorable evening.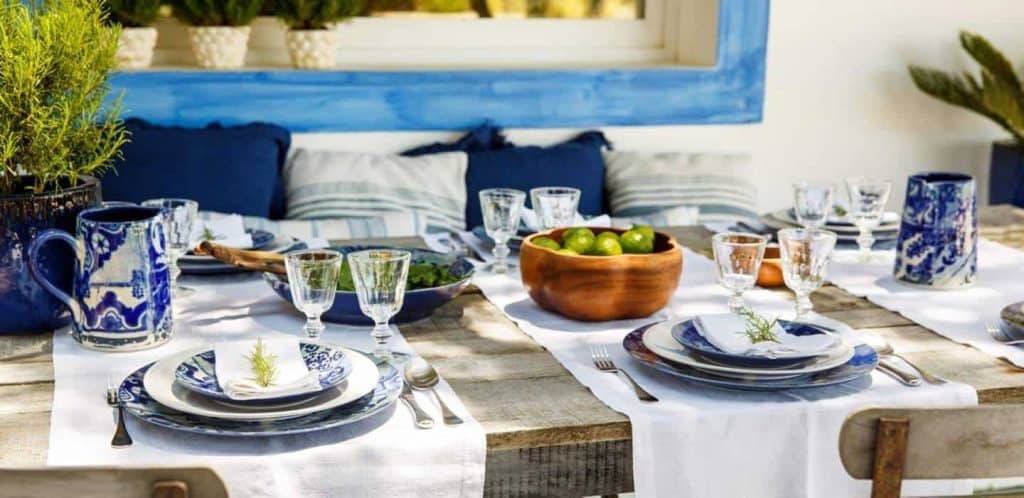 Use the nice tableware: While we hardly suggest hauling out your grandmother's Royal Doulton or using your wedding china for a poolside bash, setting your outdoor table with beautiful dishes, placemats, napkins and other decor immediately elevates the dining experience. Layering colours and textures with linen napkins, earthy stoneware and sparkling glassware highlights the beauty of the outdoors with natural materials. Using flowers from your garden or augmenting them from the local florist adds even more colour and texture. If you're limited in regards to quantity or are worried about breakables (especially near the pool), try using your more decorative bowls, platters, and glasses as serving dishes for salads, condiments, and punch, while using basic pieces for eating and drinking.

Make distancing decorative: As we continue to practice physical distancing with those outside of our household or social bubble, get creative with strategically placed floral arrangements on the table to space out seating.
Create a curated playlist: Instead of throwing on your go-to Spotify playlist, create your own unique musical journey for the evening. Not only will you score points with your guests for your superb tastes in tunes, the memories associated will last long after the evening is over. "Amy's Graduation" will be a nostalgic highlight of your music library for years to come (you can also easily share your playlist with guests via Spotify or Apple Music – including those who may be joining virtually). Here's an easy going, upbeat, and eclectic mix to for some inspiration: Summer Entertaining July 2020
Go all out with a theme menu: You can never go wrong with grilled veggies and burgers, but creating a themed menu from appetizers to cocktails can be a ton of fun, and a great way to get the whole family involved in the brainstorming process. This is also a great idea to create a sense of togetherness with households or individuals who may be dining separately!
One of Peggy and Alex's favourite themed summer dinners that requires no heat (perfect for those days when it's still 30+ degrees at sunset) is a Thai cold roll bar and mango salad. Pair with a citrusy bourbon and ginger cocktail or a Singha for the complete experience and finish with mango ice cream or fresh tropical fruit for dessert.